Best online games of 2019
Killer Instinct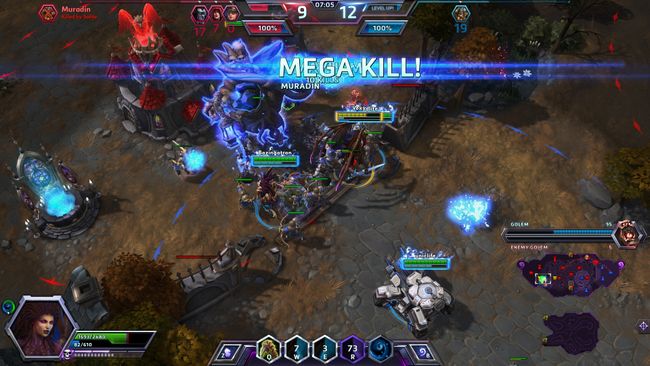 Rare's classic fighting series Killer Instinct may not be the household name it once was, but the ability to play one character for free is enticing nonetheless.
What's more, characters can be purchased a la carte as downloadable content, which means you don't have to shell out a wad of cash unnecessarily for characters you'll never play. And, for the Xbox fans out there, this game is essentially Microsoft's equivalent of Super Smash Bros. and PlayStation All-Stars: Battle Royale since you can pick up numerous Xbox mascots. These include Arbiter (Halo), Rash (Battletoads) and General RAAM (Gears of War) in addition to a growing catalog of Killer Instinct-specific characters.
While Killer Instinct isn't as popular with the Fighting Game Community, there is a certain novelty of being able to control these classic Xbox-derived characters, and on PC at that.
Play Killer Instinct for free
World of Tanks
World of Tanks is a different kind of MMO – which you should have guessed from the title. Team-based, massively multiplayer action with a huge range of war machines to drive into battle awaits, with new players able to jump into the fray right away.
The upgrade system adds a sense of personalization, while being surrounded by an entire army at all times reminds you that loners won't survive on the battlefield. Get sucked in, though, and you may find yourself spending a chunk of your wages on great big chunks of virtual metal.
While some premium tanks cost just a few dollars, others are more expensive. You can see where maker Wargaming is earning some cash from World of Tanks enthusiasts.
Heroes of the Storm
It was only a matter of time before Blizzard dipped its toe into the MoBA phenomenon, and with Heroes of the Storm, we're left asking: what took so long? It's an incredibly approachable esports title, somewhere between League of Legends and DOTA 2 in terms of complexity, with the added bonus of characters you know and love.
That's right, the roster is completely made up of Blizzard characters from across its library of classic games. Have you ever wondered who would win in a fight between Thrall and Kerrigan? Well, now you can see that fight play out on the battlefield.
Blizzard knocked it out of the park here, making one of the best free games that keeps getting better by the day.
Play Heroes of the Storm for free
Everquest
Though its future was briefly uncertain after the sale of Sony's online entertainment division in February 2015, Everquest has returned better than ever with new expansion packs and continued support by Daybreak Game Company.
The first of its kind to commercially succeed with a 3D game engine, Everquest was released in 1999 as an MMORPG (massively multiplayer online role-playing game) and has since been documented as one of the most important games in the medium's history.
Featuring consistently released expansion packs (quite massive in scale, at least early on) with vast new areas, races and classes, Everquest brings to the table just about everything you would expect from an MMO – plus it's notably better at handling co-op than its alternatives.