Gaming can be pricey, so we've rounded-up the best free games on PC
Planetside 2
Two years before Destiny dropped into orbit, we had Planetside 2. It's an epic, all-out first-person battle so unbelievable, you'll have to pinch yourself every time you load it up to remind yourself it's completely free. There are in-game purchases, sure, but you can still dive into the biggest battlefield in gaming and be useful with the default equipment.
There's simply nothing like taking part in a massed assault on an enemy base and coming out on top, or living in a world where an enemy convoy could appear on the horizon at any second. If you need any proof that 'free' doesn't mean uninspired, Planetside 2 will provide it.
Play Planetside 2 for free
 Path of Exile
Path of Exile is a free dungeon crawler in the style of Diablo III, and it's a bit different than most free games out there. It's not just about fragging real-life people until they scream at you in shrill pubescent tones through their Skype headsets.
It's a bit more slow-paced than your typical multiplayer fragfest, but if you give it time, you may just get addicted to this loot gathering hit – it's really the best free games for Diablo addicts. There are hidden depths that you can uncover after playing for hours and a huge skill tree to slowly progress through. There are no game ruining issues like that short-lived real-money auction house, either.
Instead, even basic loot can be useful because there's always an opportunity to enhance even the simplest weapon with magic. If you got tired of the grind of Diablo III, it's a good one to check out.
Best free PC games:
League of Legends
Pick a champion and head into battle in this seminal free-to-play game from the creators of the Warcraft III mod, Dota. League of Legends' automated matchmaking, diverse cast of characters and pristine maps have made it a multiplayer behemoth over the last few years, and one that will certainly stand the test of time.
It's an aggressive gameplay experience, but one that rewards good teamwork and careful tactics. You won't master it overnight, but you'll be having fun shortly after you hit that 'play' button.
Like Dota 2, League of Legends attracts many high-end players, and the top tournaments offer prize pools of over $1 million. The weird world of esports, eh?
Play League of Legends for free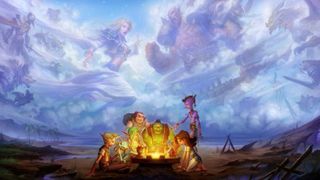 Ever played Magic the Gathering, the card game? Hearthstone is Blizzard's attempt at making a free online version of it.
And, in typical Blizzard style, it's awesome. It's immediately inviting, lacking the terrifying learning curve you would expect from an online fantasy card game. Hearthstone plays quickly, boasts a very casual visual approach, and benefits from a basic rule set, all of which adds up to a very accessible card battler that will give you plenty of enjoyment – especially if you're a World of Warcraft fan.
Despite being accessible, it's still quite challenging as well, especially if you're up against an opponent that plays their cards right.
Star Wars: The Old Republic
Taking the Star Wars MMORPG after Star Wars Galaxies went away (rest in peace), Star Wars: The Old Republic was not free at release. However, since then, like so many MMORPGs before it, adopted the free to play model. If you want to get Sith kicks, this is the best way to get them for free.
Keep in mind though, that subscriptions are still available, and will give you more in-game potential and end-game content. All the story missions, however, are still available for free – it just might take a bit longer now.
It's worth your time just to see the Star Wars universe from different sets of eyes, like the hyper-professional Imperial Agent and Bounty Hunter. If you want to go with the dull option and just have a generic Jedi Knight, though – you can totally do that.
Play Star Wars: The Old Republic for free
Forza Motorsport 6 Apex
When Xbox head Phil Spencer said he was going to bring the console's best franchises to the PC, he wasn't joking around. Among these notable series is Forza Motorsport.
Shunned by petrol-heads and embraced by gamers, Forza Motorsport may seem like an arcadey offshoot of its biggest rival on PlayStation, but it consistently looks and feels superb nonetheless.
Forza Motorsport 6 Apex in particular brings a complete Forza Motorsport game to PC gamers for the first time – before Forza Horizon 3 came out in 2016. While it's not quite the full-fledged experience you can expect with full entries to the series, Forza Motorsport 6 Apex is the best free game would could have asked for from Microsoft's long-standing racing series.